Empower Yourself With Hands-On Experience:
Triangle Healing Products is known to carry top quality alternative health products at the best price, while offering great before and after customer service. In order to make your experience with us even better, we also offer product sessions in our relaxing treatment rooms using the Bio-Mat, The Mercola Vitamin D Lamp, the iMRS and the Radiant Health Infrared Sauna.
In-store healing treatments have helped dozens of customers learn about the many benefits and features of these product first hand. Having the opportunity to use a product erases any concerns that you might have, leaving you with the knowledge you need to feel empowered when making important purchasing decisions.
---
Sessions on the Bio-Mat:
The Bio-Mat treatment system is based on Nobel-Prize winning technology, and is used by thousands of people worldwide to provide healing at the deepest levels of the body. Developed by a group of medical professionals, scientists and engineers, the Mat emits Far Infrared Rays that penetrate 80 times deeper than electric heating pads. Additionally, the Bio-Mat is embedded with a thick layer of Amethyst Crystal- commonly known to provide quantum healing while amplifying the effects of the infrared light. The Mat also generates negative Ions, the same type that are found in ocean mist, after a rainstorm or surrounding a waterfall- bringing you a sense of deep peace and wellbeing.
The Bio-Mat is an FDA approved medical device.
Health Benefits Include:
Relaxes sore muscles

Increases circulation in blood vessels, glands, lymph's, and the nervous system

Improves gastro-intestinal problems

Increases immune function

Balances metabolism

Promotes detoxification

Restores sleep

Provides a sense of overall well-being

Experiencing the
Bio-
Mat:
Laying on the Bio-Mat is warm and soothing. The thick layer of Amethyst Crystal converts heat energy from the body into Far Infrared light which is then transmitted 6-8 inches deep. Often people feel an immediate reduction in pain along with a sense of relief from both mental and emotional stress. Using the Mat feels just like being surrounded by the soft, soothing energy of nature.
Prices:
---
Sessions On The

iMRS - Magnetic Resonance Stimulation Mat:
German made, the iMRS bed is a Pulsed Electro Magnetic Field (PEMF) device that is scientifically inspired by the magnetic forces occurring in nature. This powerful healing device delivers electromagnetic energy to the entire body while simultaneously "locating and attacking" specific areas of imbalance, where injury and instances of pain are located. The positive effects of PEMF have been known for decades. In Europe, the iMRS is a widely used healing device that is commonly used in many Doctor and Chiropractic offices, treating anything from acute athletic injuries to severe cases of insomnia and anxiety. Magnetic Therapy is one of the oldest forms of healing in the world, and today it is making a comeback in the fields of alternative and complementary medicine.
Health Benefits Include:
Regenerating blood cells with movement and oxygenation

Strengthens the immune system

Encourages the body to become balanced so that vitamins and minerals are more easily absorbed

Improves respiratory challenges

Relaxes the nervous system

Increases bone density

Repairs chronic or acute injury

Promotes improved sleep

Detoxifies the body of impurities
Experiencing the iMRS:
The iMRS console should be customized to the duration and magnetic frequency that is most suitable for your needs. Once you are comfortable lying on the magnetic pad, you will almost immediately get a sense of relaxing mentally, emotionally and physically. This is due to the low-frequency pulses that surround each cell of the body. The experience is very soothing and will produce effects that can be felt immediately. For the best results, use the iMRS for several sessions where it can deeply affect healing in the body/ mind.
Triangle Healing Products Now Carries the

Omnium l:
Extremely Portable - Will fit in a backpack

High Tech and Easily Upgradeable

High End Android Table Included

Omnibrain Light and Sound System with Advanced Colour Therapy
Prices:
Individual Sessions = $25.00 / per 30 minutes

Session Packages = Please Contact Us, or visit us In-Store for prices on packages of multiple sessions. Thank you!

To purchase the iMRS, Click Here
---
Sessions in the Radiant Health Sauna:
The Radiant Health Sauna takes the regular sauna experience to the next level, by bathing the body with infrared light which penetrates 1.5 inches into the body. This slowly raises the temperature of the body's core, increasing blood flow, and making blood vessels dilate. As this heat moves towards the skin's surface, the body's nervous system sends signals to the millions of sweat glands covering the body, stimulating perspiration at 2-3 times more than what a regular sauna experience would. This expels more toxins and heavy metals and relieves pain while the surrounding air stays at a comfortable temperature, typically between 115F and 140F. The sauna also comes with built-in color light therapy in an array of colors, providing added therapeutic benefits. This is a deeply healing and relaxing experience.
Once you have completed your sauna session, we invite you to shower in our private and comfortable customer washroom, using the Kenrico Shower Head for added detoxification benefits.
Health Benefits Include:
Helps treat chronic pain like fibromyalgia, rheumatoid arthritis, and back pain

No hot or cold spots on the body during use

Removes toxins

Deeply relaxing without excess heat

Completely non-toxic with no VOC'S

Burn calories

Fights illness

Promotes deeper sleep

Relieves stress
Prices:
Individual Sessions = $25.00 / per session

10 Session Package = $195.00 (You Save $60.00!)

To learn more & to see our full selection of Radiant Health Saunas - Click Here
---
Sessions with the Mercola Vitamin D Lamp:
The Mercola Vitality Tanning System is a complete tanning system that utilizes UVB rays to stimulate natural Vitamin D production in your body. It has two more beneficial types of light which are red light & infrared light.
Expierence the Vitamin D lamp in the comfort of one of our PRIVATE rooms.
Health Benefits Include:
UV rays that help your body produce just the right amount of vitamin D, without overdosing.

Red light in the 633 nm range builds collagen, improves oxygenation and hydration.

Infrared light may help provide temporary relief of muscle and joint pain and stiffness.

Improves tone and texture, reversing the appearance of aging.
Rates:
1 Session = $1.00 / per minute
100 Minute Package = $75.00
---
Session on the OTO e-Physio:

Electro nerve stimulation is a well-established technology to help improve pain relief, boost energy levels, strengthen muscle recovery and enhance overall well-being. Using electrical pulses, it helps to block pain signals from being transmitted to the brain and promotes blood supply, thereby assisting in healing.
Therapy Cycle: 1 to 60 minutes
Relax: Relaxes tense muscles
Soothe: Relieves pains and discomforts
Heat Therapy: 50c to 60c
---
Sessions on the Human Touch ZeroG 4.0 Immersion Massage Chair:
Get deep relief for your shoulders and lumbar region with a penetrating and enveloping massage that moves in and around your muscles to alleviate pain and tension. In creating the ZeroG® 4.0 massage chair, Human Touch® has taken the stress out of stress relief. Take a seat, recline to zero-gravity, and simply point to where it hurts using the revolutionary BodyMap PRO™ Immersion Director remote. The Smart 3D massage engine simulates the expert movements of the chiropractors who helped create them, leaving you relaxed, rejuvenated and ready to live life to its fullest. Immerse yourself in wellness. *Please note, if this massage chair is not in stock, we have a selection of other Human Tough massage chairs to try. Please Contact Us or visit us In-Store for more information.
Auto-Immersion Massage Programs:
Chiropractors from our esteemed Wellness Council have helped define rouf full-body Auto-Immersion Programs featuring patented Human Touch Technology to easily take you from stress to sleep.
BodyMap PRO:
The ZeroG 4.0 already knows how to alleviate your secific ailments. Simply point to where you need relief on the BodyMap PRO Immersion Director for the right solution
Go-to-Zero:
One-step press and hold moves your Immersion Massage Chair into the zero-gravity position, the physical-recommended neutral-posture position that relieves pressure on the spine at any recline angle.
Foot & Calf Massager:
Slide your legs into the sleeves of the fully encompassing foot-and-calf massager for a therapeutic massage complete with vibration and proprietary Figure-Eight Technology that soothes aching, tired feet and legs while improving circulation
---
Make Life Simple with Monthly Financing with Medicard: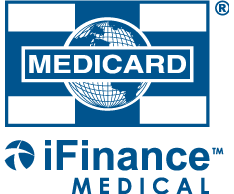 At Triangle Healing Products, we believe that finances should not stop you from living a healthy life.
To help you reach your goals, we have partnered up with Medicard, offering monthly payment plans that works on your behalf. Click Here to find out more!